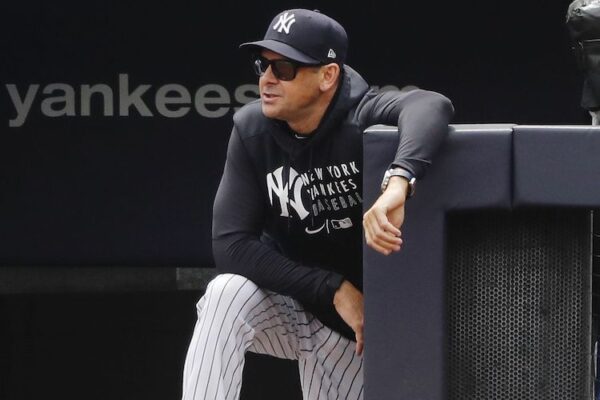 It's time for Aaron Boone to go. It was time for him to go after he managed the Yankees out of the 2018 ALDS. But nearly three years later, following two more early postseason exits and currently slogging through the worst Yankees season with expectations in nearly 30 years, it's time for a managerial change.
I realize it's un-Yankee-like to replace a manager during the season. I also recognize that Hal Steinbrenner (who cries poor at any chance he gets despite his $4 billion net worth) would rather lose Yankees fans than lose money paying two managers during a single season, considering his team rosters Rougned Odor because he costs $0 and is paying Adam Ottavino to pitch for the Red Sox to avoid paying a luxury tax. This can't go on though. Boone has to go.
The Yankees have lost four straight games for the third time this season, have a 40-38, are 7 1/2 games back in the division and six game back for the second wild card. The preseason AL favorite, the Yankees own the second-worst offense in the league. Their postseason odds are falling with each loss, and the manager and his team have shown no signs of urgency to turn the season around.
Before the latest loss on Monday, Boone said, "Our season is on the line." His team responded to his public challenge with a six-hit effort, losing 5-3 to an under-.500, Mike Trout-less Angels team. The same Angels team that had just love five straight to the Tigers, Giants and Rays last week and who had lost eight of 12 entering this series. Boone's message to his team and his motivation to get them to turn their season around worked about as well as Nick Nelson as an opener, and the Yankees fell behind another game in the standings.
Boone's analysis of the Yankees' latest loss was the same as it was for their other 37 losses: full of bullshit. A day after saying his team was "prepared" and "ready to go all weekend" when they got swept and scored seven runs in 27 innings at the most right-handed-hitter-friendly park in all of baseball, Boone said he had no issues with his team's "focus, compete and intent" against the Angels. If a six-hit, three-run effort against the Angels is an acceptable level of "compete" then what are we even doing here? Why would any Yankees fan continue to watch this team? If you have watched every pitch of the 2021 Yankees season, you have already wasted 10 days, seven hours and seven minutes of your life. Why continue?
What is the Yankees' fear in firing Boone? He's not some unrivaled baseball genius who's about to figure out even the simplest in-game strategies and guide the team to multiple championships as part of the franchise's next dynasty. He had a chance to do that when he took over a team that had come within one win of the World Series the year before he became manager and all they have done is go backward during his tenure. There's no harm in firing Boone. There's only upside.
Boone does nothing well. He can't successfully fill out a lineup card. He can't properly manage his bullpen. The team doesn't field well and their baserunning under him is the joke of the league. The communication skills Brian Cashman praised Boone for having at the time of his hire led Luis Severino to not know the start time of Game 3 of the 2018 ALDS, led to Gary Sanchez being left in the dark on his 2020 postseason benching and caused a clubhouse rift to begin 2021 when he thought Scumbag Domingo German didn't need to address the team for his off-the-field actions which led to a suspension for 2019 and 2020. Boone doesn't handle the media well, stumbling through every postgame answer with nonsensical responses or blatant lies about his players' performance or the state of the team.
I understand Boone isn't in the batter's box or on the pitchers' mound, but it's his job to put his players in the best possible position to succeed, and he rarely ever does. If the manager has nothing to do with a team's success then why would any manager ever get fired? If Boone isn't going to lose his job for this season then the Yankees might as well give him a lifetime contract.
The Yankees moved on from Joe Girardi because of his supposed intensity and the Yankees' fear it was rubbing off on their players. Girardi's personality exuded Game 7 in every game no matter the importance, and for some reason the Yankees didn't want their players developing that trait. So they hired the inexperienced Boone for his friend-first, manager-second, relaxed Southern California personality, and the team has instead adopted his personality. No loss matters, there's always tomorrow and things will turn around.
After last year's postseason debacle in which Boone singlehandedly flipped the ALDS in the Rays' favor with his Game 2 pitching strategy, Cashman said he could see Boone managing the Yankees for 10 years like Joe Torre and Joe Giradi had done. Unless the Yankees miraculously turn their season around I don't see how Boone is given a fifth season as Yankees manager. He should have never been given one.
---
Subscribe to the Keefe To The City Podcast. New episode after every game during the season.
---
My book The Next Yankees Era: My Transition from the Core Four to the Baby Bombers is now available as an ebook!