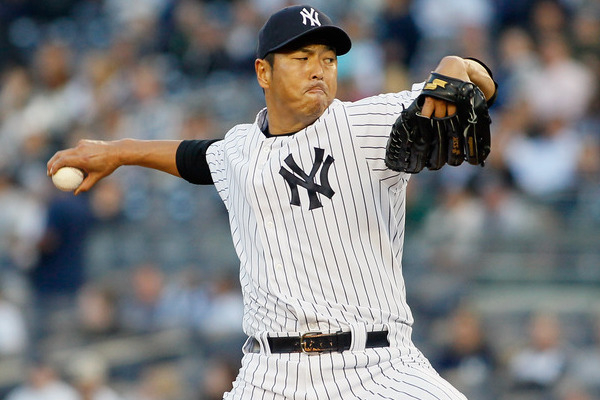 It's Thursday, and that means it's time for Thursday Thoughts, which is my way of putting together things that didn't end up in columns for the week.
The Coin Flip Kuroda name is officially retired … indefinitely. That doesn't mean it won't make a comeback like Andy Pettitte, but it really holds no meaning as of late. I'm not about to start calling Kuroda "Sure Thing," but I can't justify his "Coin Flip" status.
Here are Kuroda's last four starts.
May 27 @ OAK:  8 IP, 4 H, 0 R, 0 ER, 1 BB, 3 K
June 2 @ DET:  7 IP, 7 H, 2 R, 2 ER, 1 BB, 4 K
June 8 vs. NYM:  7 IP, 1 H, 0 R, 0 ER, 1 BB, 7 K
June 13 @ ATL:  6 IP, 9 H, 2 R, 2 ER, 2 BB, 8 K
Total line: 28 IP, 21 H, 4 R, 4 ER, 5 BB, 22 K, 1.29 ERA, 0.929 WHIP
Kuroda has now made 13 starts this season and has allowed three earned runs or less in 10 of them. He has six losses and one no-decision, but in those seven games the offense has scored 16 runs, including being shut out twice and scoring just one run twice. (The offense has scored three runs or less in eight of his starts.)
The real question I ask with Yankees pitchers is: Do I trust him? I don't think I "trust" Kuroda yet (since I trust CC Sabathia and Andy Pettitte), but I have confidence when he is on the mound. Having trust in a Yankees pitcher is the highest compliment I can give them, and for Kuroda just having confidence in him right now is a big step in the right direction when you consider that 24 days ago he lost to the Royals and 29 days ago he gave up seven earned runs and three home runs in Toronto. (For example, I just now have "confidence" in Boone Logan after two-plus seasons, but I don't "trust" him. However I'm getting there.) Kuroda hasn't lost since that May 21 start against the Royals at the Stadium, and since then he has outgrown the "Coin Flip" nickname and given me confidence in him. The next step is gaining that trust and then we'll start to talk about where he fits into the postseason rotation.
***
Is anyone surprised that A-Rod finished second and Nick Swisher finished third as the most hated players in baseball (A.J. Pierzynski finished first) in the Men's Journal player's poll? Actually I'm surprised that Swisher finished third. I can understand why non-New Yorkers hate A-Rod, but Swisher? Is it possible that even non-Yankees fans are seeing what some Yankees fans are in Swisher's over-the-top and sometimes phony personality? At least one player is.
An unnamed American League veteran said, "Everything about (Swisher) is annoying, from his mannerisms to his always wanting to 'bro' it down. Being around him is just exhausting."
Maybe it's just going to take me more time to come around on Swisher than others (though we are in the fourth season of this and there might not be a fifth season), but I just don't see it happening. Between Swisher's lack of hitting in the postseason, his low Baseball IQ, his shaky defense, his arguing of obvious called third strikes and the way he goes about things (like climbing the wall for a rob attempt when the ball is 30-plus rows back) there's just something about him that I can't stand. I guess that "something" is the "broing it down."
***
Of course the one night I decide to go to sleep early there's a perfect game on the West Coast. I felt like I had been disconnected from the world when I was scrolling through Twitter on my phone on Thursday morning and finding out in reverse order that Matt Cain had thrown a perfect game. It's always strange when you a big story from a game, and use Twitter to watch it unfold backwards even though you already know the outcome.
No-hitters and perfect games are always entertaining even if some old, grumpy, miserable sportswriters have nothing to say or write so they go with the angles that the feats are too common now or that they have lost their importance. This season we have seen Cain and Philip Humber throw perfect games and no-hitters from Jered Weaver, Johan Santana and the Mariners staff and all of them have been enjoyable. (Yes, I experienced joy while reading tweets about Cain's after missing it.) And on top of those, Cy Young favorite (and one of my personal favorites) R.A. Dickey nearly added the Mets second no-hitter in 12 days on Wednesday night after the franchise suffered through 50-plus years without one.
There's a good chance Justin Verlander could no-hit the Cubs on Thursday afternoon, and no one would be surprised. And if he does I will enjoy it the same way I have for the rest of the non-Yankees perfect games and no-hitters because they never get old unlike sportswriters.
***
"No. No way." That's what Zach Parise said and repeated over and over when asked if he would go to the Rangers as a free agent this offseason. Does anyone believe him?
Parise just finished his seventh season with the Devils and it would have been his eighth if there wasn't a lockout in 2004-05. He started playing for the Devils when he was 20, and they are the only team he has known as a professional. When asked the question, he had just finished losing the Stanley Cup Final after playing in all 106 of the Devils' games this year. So it makes sense why he would say "no" several times when asked about leaving the only team he has ever known to join their rival in the middle of the Devils locker room after a season that lasted as long and ended as devastatingly as it did.
Does that mean Parise will say no to the Rangers when they officially pursue him? Of course not. He would have to really hate money to close the door on the Rangers before they even talk to him or make him an offer, as it would destroy any leverage he has of getting more out of the Devils, and would take away from what the Red Wings might offer.
For some reason I believe Parise when he says that he wouldn't play for the Rangers. He seems like the loyal type that you can rarely find in 2012, and as the captain of the team, I think he understands what he means to his organization. But then you start weighing his options of playing at The Rock rather than Madison Square Garden or Hockeytown and for a fan base that doesn't come close to what the Rangers and Red Wings have, and you would have to think that Parise would have to be more than just someone who hates money to stay with the Devils. He would have to be insane.
The Devils are still Martin Brodeur's team even if he hasn't been Martin Brodeur for a while now, and once he retires it will be Ilya Kovalchuk's team. And while Parise would join a roster with Henrik Lundqvist, Ryan Callahan, Marian Gaborik, Brad Richards and Marc Staal, if he signed with the Rangers, he would get paid and have the ability to contend for the Cup in his prime as the youth of the Rangers enters theirs. I don't think you can say the same for the Devils. But maybe Brodeur's line after the Devils' Game 6 loss that "These guys will be celebrating a championship in the near future" is a step toward convincing Parise to stay a Devil the way Brodeur has for so long.
If Parise decides he would rather play his home games in Newark rather than Manhattan, and if he would rather try to win the Cup with the Devils and have a parade in a parking lot rather than up the Canyon of Heroes then I can't help him.