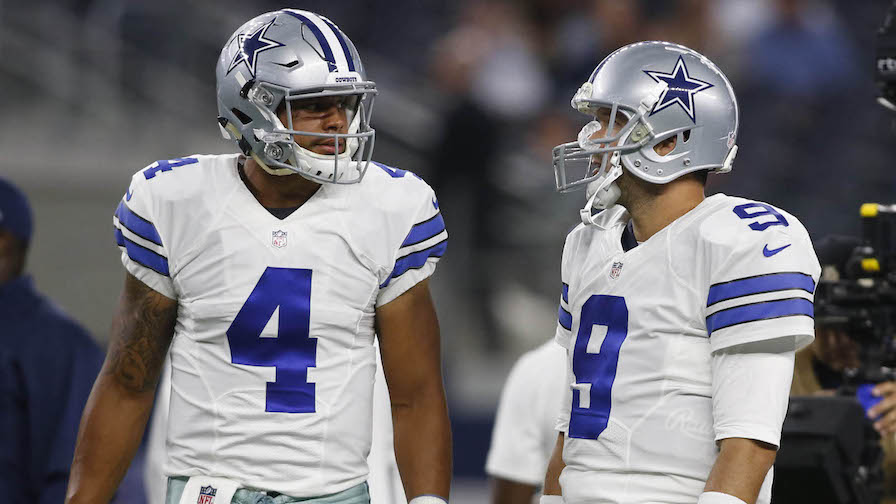 For the second straight season and the fourth time in five years, the Giants get the Cowboys in the season opener. The other four times haven't gone so well as the Giants are 0-4 in the those and the G-Men haven't won the first game of the season since 2010 though that season didn't exactly end on the best note. The Giants are looking for their first playoff berth in five years this season and they will start their quest for it against their division rival.
With the Giants in Dallas to open the season, I did an email exchange with Dave Halprin of Blogging the Boys to talk about the latest Tony Romo injury, what expectations are for Dak Prescott and the Cowboys and why it seems like Jason Garrett is invincible.
Keefe: Every season we talk, and every season we talk about Tony Romo. Here we are again.
Last season, the Cowboys went 3-1 in games started by Romo and 1-11 in the other 12 games. They were 2-0 when he went down, including their miraculous Week 1 win over the Giants and looked to be the team to beat in the NFC East for the second straight season before it fell apart. This season, it might have all fallen apart before the season even started.
In the last six seasons, Romo has played 16 games twice and he obviously won't be playing 16 games again this season. He's now 36 years old with lingering back issues.
What do you make of Romo right now and what is his future with the Cowboys?
Halprin: The Cowboys insist that these are all separate injuries indicating they think it's not a chronic issue that will keep Romo from returning and playing a few more years. Cowboys fans, on the other hand, are a lot more skeptical and are worried that Romo's body is just giving out on him. The way he plays by scrambling around in the pocket extending plays leads to getting hit, and that all those hits have taken their toll. It's expected that Romo will return sometime after the first month of the season so unless Prescott just blows everybody way Romo will be the starter unless he gets hurt again. I think that's the expectation for the future, if Romo is healthy when he comes back and stays healthy, he'll be the starter. But one more major injury and the organization will have to start thinking about turning the team over to Prescott permanently.
Keefe: I guess that future does depend on how Dak Prescott plays. The fourth-round pick out of Mississippi State made opened everyone's eyes with his performance in the preseason and there were Cowboys fans who thought he should be the starter even before Romo got injured. Now they have their wish as Prescott is the Cowboys' starting quarterback.
It's rare that a rookie quarterback starts in Week 1 and it's even more rare that a rookie quarterback has success in their first season. Even with the rule changes of recent years that have made it easier for rookie quarterbacks to succeed in the NFL, there still isn't a very long list of those who have.
How do you feel about Prescott as your starting quarterback?
Halprin Well, I'm sure you could find a very small pocket of fans who though Prescott should start over Romo before the injury, but you can find small pockets of people who will think or believe anything. I don't think there was ever any real sentiment from the vast majority of Cowboys fans that Prescott should have been the starter over a healthy Romo. Guarded optimism is the way I would describe my feelings about Prescott. He did everything that was asked of him in the preseason and did it flawlessly, but that was preseason. Two things stand out about Prescott, one is his poise and leadership, he's looked like a veteran so far, handling the huddle and in-game situations with a veteran's cool. He's also been much more accurate than what many thought he would be. Prescott has a lot of weapons around him and a fantastic offensive line, so he doesn't have to do it all, just keep the motor running and don't turn the ball over.
Keefe: If Prescott doesn't play well, next up would be Mark Sanchez, who the Cowboys recently signed after the Broncos released him. Sanchez lost his job in New York to Geno Smith. He only started Philadelphia when Sam Bradford was hurt. He couldn't be out Trevor Siemian, who has taken one snap in the NFL or rookie Paxton Lynch in Denver.
After having to watch Brandon Weeden, Matt Cassel and Matt Moore start games for the Cowboys last year and Kyle Orton start the most important game of the season in 2013, I guess it's only fitting that Sanchez might start for the Cowboys at some point.
How long of a leash will Prescott get and what would it take other than injury for Sanchez to have to play?
Halprin: Prescott's leash is very long, like miles long, and it would take an absolute disaster of epic proportions for them to turn to Sanchez unless an injury occurs. It's hard to imagine a scenario, but I guess if the Cowboys lose their first four games and Prescott is the obvious cause, then maybe, but even then it's questionable.
Keefe: Jason Garrett is now in his seventh season and sixth full season as head coach. His only winning full season was in 2014 when the Cowboys went 12-4 and he's 45-43 overall. It's certainly not the worst record for a head coach, but for the Cowboys head coach with the talent and expectations he has had, it seems almost improbable that he could still be the head coach of the Cowboys.
Are you a Garrett fan? Why does it seem like Jerry Jones never says Garrett's job is on the line?
Halprin: I don't see it as improbable that Garrett is still the coach, I would suggest that kind of thinking comes from not examining the Cowboys culture and roster when Garrett took over. The team had bottomed out under Wade Phillips, the salary cap was a mess, there was a lot of rebuilding to be done. The Cowboys offensive line of today wasn't here in the beginning of Garrett's tenure, that has been built over his time. The accountability of the players, getting the roster younger, having a long-term plan instead of lurching from season to season, much of that has come from Garrett. I have no problem with the job he's done in trying to revitalize the franchise.
Keefe: Two years ago, the Cowboys were a catch rule catch away from going to the NFC Championship, and last year, they were decimated by injuries. Once again, a lot of preseason predictions had the Cowboys winning the East, but that was before the Romo injury. Now, in another year in which the NFC East seems like it's wide open, the Cowboys are starting a rookie quarterback.
What were your expectations for the season before Romo went down and what are they now?
Halprin: Before the Romo injury I had the Cowboys as the favorites to win the NFC East. They were going to look much more like the 2014 team instead of the injury-plagued unit that was undone by poor quarterback play in 2015. I think they were solid contenders in the NFC. Now, it's anybody's guess because no one, and I mean no one, knows how Dak Prescott is going to play once the games become real. And no one is quite sure when Romo will return and how healthy he will be. So the Cowboys still have a chance to be special this year but it's impossible to be sure.