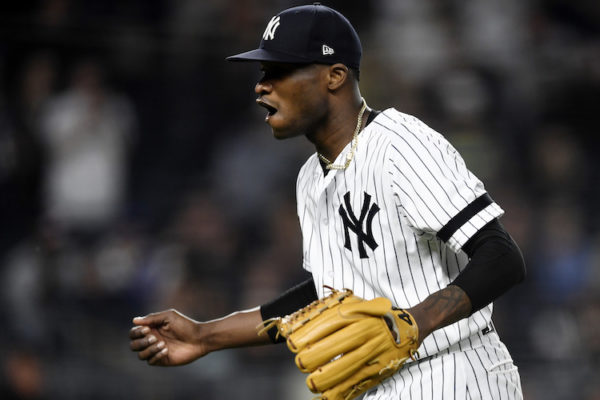 It wasn't too long ago the Yankees skipped Domingo German's start in the rotation upon CC Sabathia's return. The Yankees wanted to get Sabathia back in the rotation and thought it made the most sense to keep Masahiro Tanaka, James Paxton and J.A. Happ on schedule, so they sent the 26-year-old German to the bullpen, disregarding his 1.64 ERA and two wins in his first two starts. They chose to go with the established arms and the ones making German's salary per start, taking into account a small sample size of success for German. German pitched out of the bullpen for his third appearance of the season on April 13, relieving Sabathia in his season debut and picking up the win with two scoreless innings against the White Sox.
Less than six weeks later, the Yankees wouldn't even think about skipping German in the rotation as that small sample size of success has grown into nearly one-third of a season of success. After beating the Orioles on Tuesday night, German is now 9-1 with a 2.60 ERA, 0.976 WHIP and 57 strikeouts in 55 1/3 innings. He appears to be over the control issues that plagued him in the past as his hits per nine innings is down from last season (8.5 to 6.2) as is his walks per nine (3.5 to 2.6). The strikeouts per nine are down as well (10.7 to 9.3), though if a drop in strikeout rate means a vast improvement for the other two, so be it. German has kept the ball in the park, allowing only five home runs in 55 2/3 innings and giving up just 14 extra-base hits to the 223 batters he's faced. His filthy repertoire and swing-and-miss stuff has taken him to another level this season, and for someone who quit baseball not that long ago, I'm grateful he changed his mind and returned to the game.
German has looked like a different, more confident pitcher in 2019, and as a Yankees fan, I feel different and more confident when it's his turn to pitch. There's no longer worrying if you're going to get the German who can no-hit the Indians for six innings or the German who can take the Yankees out of the game before they even come to bat for the first time. German's only "bad" start of the season came on April 28 in San Francisco when he allowed four earned runs in six innings. All four of those runs came in his final inning of work and prior to that he had one-hit the Giants for the first five. Even in this "bad" start, he managed to pick up the win.
Eight of German's 10 starts have come against some of the lesser teams in the league (Tigers, Orioles, White Sox, Royals, Angels and Giants), but in another season in which most of the league is tanking and simply not trying to win or be competitive, the majority of any pitcher's starts are going to come against teams below .500. In German's other two starts, he shut down the first-place Twins (6.2 IP, 4 H, 1 R, 1 ER, 3 BB, 7 K) and beat the first-place-at-the-time Rays at the Trop.
I would much rather have a healthy Luis Severino than no Luis Severino at all, but the only reason German is part of the rotation this season is because of Severino's shoulder injury. Without Severino's absence, German would have started the year in the bullpen or worse and his career-changing season wouldn't exist. Instead, he's filled in for Severino by pitching as if it's Severino in the rotation.
I don't know what will happen if and when Severino returns and the whole rotation is healthy. That's certainly a big "if" when your rotation boasts the injury history of Masahiro Tanaka and James Paxton, who's already injured, the knee of CC Sabathia and the always-durable J.A. Happ, who's now 36 years old and has performance issues. In an ideal world, the Yankees would get a healthy Severino back and have six capable starters for five rotation spots and would have to choose between sending one of them to the bullpen or going with a six-man rotation. I would go with the six-man rotation to keep German or the others in the rotation and also to give them all an extra day rest each time through. However, that scenario is a long ways away, and chances are whether because of injury or performance, it will never be an actual scenario.
German has not only earned himself a roster and rotation spot no matter what happens later in the season, he's earned himself a bid for the AL All-Star team, possibly even the game's starter, if he's able to keep pitching at or near his current level for the second half of the first half. From a Yankees fan's perspective, he's earned himself a postseason start, moving past Happ and Sabathia on the depth chart. Even if we're four-plus months from thinking about that, it's still going to be thought about.
It has been reported German is pitching with an innings limit or cap this season. While that might be understandable in past seasons, it isn't this season. Not in the real first season of a championship window. Not when other rotation options are either banged up or underperforming. Not when the Yankees have proven time and time again they have no idea how to handle pitchers and prevent injuries. An extra day of rest here and there is fine, but there shouldn't be any skipped starts or bullpen relegation to protect him. Pitchers can't be protected and I'm unsure if the Yankees will ever learn this. German needs to pitch and he needs to continue to start.
In a season full of unexpected heroes, Domingo German has been the most important one for the Yankees. I don't know where the Yankees would be right now in the standings without him. Thankfully, I don't have to know.
***
My book The Next Yankees Era: My Transition from the Core Four to the Baby Bombers is now available as an ebook!