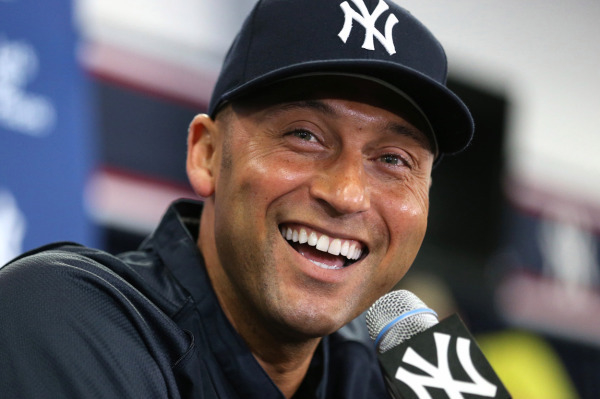 There have been a number of Red Sox to become Yankees over the years and Jacoby Ellsbury is in the top tier of names who have switched sides and put on the pinstripes after becoming an icon in Boston. The center fielder will play against his former team for the first time this weekend at the Stadium in what is the first Yankees-Red Sox series of the season.
A Yankees-Red Sox series? You know what that means. An email exchange with Mike Hurley.
Keefe: It seems like just yesterday I was writing to you at the beginning of September with the Red Sox coming to the Bronx for a four-game series and the Yankees looking at their last chance at making a run at a postseason berth. What happened next? The Yankees lost the first three games of the series, despite scoring 25 runs in the three games, and salvaged the fourth game, but the season was over. Then the Major League Baseball Players Association went on strike the following Monday and the season was ended prematurely and for the third time since 1994, we were without a baseball postseason just like 2004 and 2007.
The last time the Yankees and Red Sox played, here was the Yankees lineup:
Curtis Granderson, CF
Alex Rodriguez, DH
Robinson Cano, 2B
Alfonso Soriano, LF
Lyle Overbay, 1B
Mark Reynolds, 3B
Ichiro Suzuki, RF
Brendan Ryan, SS
Chris Stewart, C
In that game, Vernon Wells, Zoilo Almonte, Eduardo Nunez, and J.R. Murphy also entered the game.
Things are a little different here now with Derek Jeter back, Brett Gardner is back, Brian McCann catching, Carlos Beltran in right field and Jacoby Ellsbury in center field. Even Mark Teixeira was back for 21 minutes before landing on the disabled list with a hamstring injury, which won't bother him, since he can now personally drive his kids to private school in Greenwich for the next two weeks.
This weekend will be the first time Ellsbury faces the Red Sox and even though his switch of teams hasn't really fully set in and I don't think it will until two weeks from now when he plays in Fenway as a Yankee, it must be weird for Red Sox fans to see him wearing pinstripes this weekend. When Johnny Damon switched sides starting in 2006, it was weird, and even though he was the face of Red Sox culture in Boston, it wasn't as weird as Ellsbury to me because Damon changed his whole look and image as if he were a different person. Ellsbury is just the same guy with a different uniform on.
So welcome back, Hurley. The first of six Yankees-Red Sox series this season. I can't wait for the pregame montages of the last 10 years of this rivalry to get everyone amped for April baseball.
Hurley: That's funny, I faintly recall being at Fenway Park as the Red Sox bulldozed their way through the Rays, Tigers and Cardinals last October … but yeah, that seems impossible. I was probably dreaming.
Ellsbury vs. the Red Sox is definitely going to be weird. It's been weird watching him in that uniform for the past week, and it's going to be 10 times weirder seeing him against the Red Sox.
I wish there was another word to use other than "weird," but that's really all it is.
It's not like this was never expected. Ellsbury basically had the same relationship with the Red Sox that Jonathan Papelbon had for so long. Both sides knew that the player wanted to reach free agency and then cash in with a contract from the highest bidder. In both cases, the Red Sox weren't expected to be the highest bidder, and in any such situation, the Yankees are always a threat to be the highest bidder (unless the available player was a closer from 1997-2013).
So it definitely wasn't shocking to see Ellsbury sign with the Yankees, but it remains … weird.
I contend the Johnny Damon switch was crazier, because Damon was kind of a heart-and-soul-of-the-Sox kind of guy, a leader in the clubhouse, a face of the franchise type, a guy who publicly said he'd never go to the Yankees. I never expected him to bounce like that. But Ellsbury? Fans appreciated him a lot here, but I don't think it ever reached the level that it did with Damon.
And I know this is your website and everything, but can we talk about Jeter next? I mean, I need to talk about JEETS being unable to field a routine grounder to short, because he can't bend over, and then his pathetic dive to try to cover for the fact that he can't touch the ground with his glove on a routine play. Please, please, let's talk about that next. If that wasn't a Pride/Power/Pinstripes moment, then I don't know what was.
Keefe: I have no idea what you're talking about regarding Derek Jeter. On Tuesday against Baltimore, I vividly remember a grounder up the middle that he gave full effort on and it was unplayable for any shortstop in the league or any shortstop in history without the use of a shift. I don't remember seeing a grounder go up the middle and looking away from the TV thinking it was an inning-ending double play and that the inning would be over only to do a double take and look back at the TV to see the ball rolling to Jacoby Ellsbury. Nothing to see here. Move along.
But in all seriousness, I don't care that Derek Jeter lets an occasional playable grounder up the middle get past him. If Ivan Nova could be trusted, he would have bailed out Jeter for his inability to end the inning. Instead, Nova gives up a three-run home run and the Yankees are in 3-0 hole before they even hit for the first time in the game.
Jeter will be 40 in June and that's what happens with 40-year-old shortstops. Actually I'm going to have to say "I think that's what happens with 40-year-old shortstops" because I can't remember any team, nevermind a team looking to contend for a championship, having a full-time 40-year-old shortstop. But like I said, I don't care. I would run Jeter out there at short for the next 10 years if he wanted to keep playing. I'm not a cold-hearted computer slave when it comes to baseball and while I appreciate advanced statistics, I'm loyal to players who did so much for so long, let alone players I grew up with. I'm fine with Jeter playing shortstop like someone from your Greater Boston men's league, and I would be more than happy if the Yankees signed Bernie Williams and he hit .219 for them this year. (.219 might be a bit generous at this point.)
I understand the need and want to compete every year, but having a player of Jeter's defensive capabilities at this point isn't going to be the reason the Yankees don't win the World Series, if they don't win the World Series. It will come down to the middle of the order, which has been a disaster through the first nine games and the rotation, which is supposedly led by a once-fat, now-skinny CC Sabathia who has about 129,000 innings under his belt and is making $700,000 per start. But by the end of the year, I think we will realize the Yankees' rotation was set up backwards and should be really be more like Pineda-Tanaka-Nova-Kuroda-Sabathia than the other way.
Hurley: What do you think Jeter thinks when he sees Ellsbury get GAME THREE of the season off? Or when he sees Mark Teixeira say he's not really injured too bad but he's going to go on the disabled list and collect about $2.1 million to do absolutely nothing for two and a half weeks?
You mention that the guy is 40, and I think it'd be great if he just stopped caring at all about anything this year except for winning. I'm picturing him getting in Ellsbury's face, spit flying everywhere, Jeter just embarrassing the guy in front of everyone. That would be awesome.
But instead, we'll just see a Jeter whose No. 1 priority seems to be being kind of a jerk to media nerds who ask him bad questions. So boring.
I'd get into how insane you are to be OK with trotting out an old man at shortstop like it's not the most important position on the diamond, but I think that kind of speaks for itself. Plus, I almost feel bad. It's like you're watching your family pet die a slow, painful death, on live television, in high definition, in front of 50,000 people. Ouch.
Stephen Drew is available, by the way.
Keefe: Well, Jorge Posada was more like watching the family pet die. After the Yankees' 2010 ALCS loss to the Rangers, I wrote that he was like the aging family dog, who would have his good days that would make you think the days of old were back, but then there were the days he would just lay around all day or poop in the middle of the kitchen floor and you realized it was time.
I'm disgusted by you mentiong Stephen Drew and the Yankees or any member of the Drew family and the Yankees. The same goes for the Weavers. If the Yankees could trade Francisco Cervelli and all of the suits who sit (or actually don't sit) in the seats between the bases for Jered Weaver, I would pass. No, I really wouldn't. But I would like to. I picture the Drews driving around Georgia in the early 90s with J.D. and Stephen in the back and the "O'Doyle Rules!" family scene from Billy Madison taking place. The fact that both Drews have World Series rings and both with the Red Sox is so effed up it makes me hate sports.
You brought up a funny thing about Jeter and that is the way he handles the media. He has been praised his whole life for handling the media better than anyone else and who praises him for this? The media! Why did I use an exclamation mark there? Because Jeter is actually very sarcastic and condescending to the beat nerds that worship the ground he walks on, yet they are the ones that have created this image that he can do no wrong with a microphone or camera in front of him. I can only hope that when Jeter is hanging out with his buddies and one of his YES postgame scrums in front of his locker comes on TV, he says, "Hey everyone, quiet down! The part where I embarrass the 5-foot-2 nerd with the gut and BBQ sauce stain on his Polo shirt from 1993 for asking me how I felt when I took Lester's fastball the other way is coming up!" And then they all laugh and drink beer. Yeah Jeets!
Hurley: It is a weird thing. Derek Jeter may very well be the nicest guy in the world for all I know. But he also might be the biggest dick ever. How could we possibly know?
The guy is a flat-out jerk with the media, but I never judge any athlete based on his interactions with the media. I actually respect him for putting nerds in their place for being nerds, because not every athlete can get away with that without getting trashed in the media. So good for him.
But it would be pretty funny if in real life, he was just an A-hole. He's been praised for staying single and playing the dating game for so long, but maybe it's because nobody can stand being with him. I mean, frankly, a guy who makes me put my phone into a bowl so I can't use it while I'm at his fancy mansion already gets things starter off on the wrong foot.
And I officially forget what, if anything, we were really talking about. So I'll just link to a picture to the scene you described, the one of Jeter hanging out with his buddies.
Keefe: I feel like Conan O'Brien doing one of his interviews with Norm MacDonald in how far off track we have gotten. But while we're talking about players who are dicks to the media, let's talk a little David Ortiz.
Last month we had the annual David Ortiz Isn't Happy About His Contract meltdown, which can now be counted on like Groundhog Day. This time, however, Ortiz didn't call the city he plays for a "shithole," but not like it would have mattered anyway because it's David Ortiz. He can pretty much to do whatever he wants and no one cares. If he were the mayor of Boston, and he would win if he ran, and he put a TGI Friday's and WalMart in the North End, shut down the MBTA except for the hours of 10am-11am, removed the Freedom Trail bricks, made Charles Street a one way going the other way and evicted Halftime Pizza, no one would be upset. (As long as he keeps the Domino's on Staniford Street open late night, I'm fine. Is it bad I still remember their phone number, 617-248-0100, from 2004?) Why would no one be upset or rioting? Because it's just David Ortiz!
This is a guy who outed as being a PED user, held a press conference about it in New York, admitted to taking things he knew were bad, started to break down like an aging and overweight power hitter should and his release was being talked about and then he magically rebounded and hit like it was 2003 again. I mean he said, "I never thought buying supplements was going to hurt somebody's feelings. If that happened, I'm sorry about it." He said that! And no one cared!
Not only did he return to his former self, but he went on to hit .688 in the World Series against the Cardinals and instead of people wondering how he has picked his career up off the mat, he is leading the league in jersey sales. Is this real life?
Hurley: Well, when you put it that way, it looks pretty bad. Yeah, he hit .688 in the World Series, but he also hit .091 in the ALCS, so it's not like he was going all Incredible Hulk on us for the entire postseason.
But yeah. I don't know what the heck David Ortiz is on because I don't know what anyone is on. Obviously, I think the days of syringes going in butts in clubhouses across America are over, but most of these guys are taking something that you can't find at GNC.
I think the fact that A-Rod, Braun and Co. weren't even caught by MLB's testing but were busted by the Miami New Times (is that a website or a font?) tells you that the athletes, as always, remain ahead of the testing.
But if Ortiz is on some funky stuff, he's hardly the only one, so I don't know how to possibly place what he's doing in any special context.
I also think your tales of his demise are exaggerated. He had two bad Aprils in three years (2008, 2010), but he finished those seasons with respectable .877 and .899 OPS (how do you pluralize OPS?). You might have taken great joy as Ortiz went 8-for-56 in April 2010, but maybe that blinded you to his month of May, when he hit 10 homers and batted .363. Unless you're insinuating that he doesn't start popping pills until late April?
Keefe: I guess that's what I'm insinuating. So I can expect a David Ortiz trip to "GNC" very soon since it's now April 10.
The Yankees have their questions and unknowns like any team does at this point in the season. But coming off their second missed postseason since 1993, people around here don't want to have questions and unknowns, they want answers. They want to know everything before it happens. And that's why I turn to you.
Last year, the Red Sox were picked by many to finish last in the AL East and be one of the worst teams in Major League Baseball. They were coming off their worst season maybe ever as part of the one-year Bobby Valentine era and looked like it would take them a decade to climb out of the hole Theo Epstein and ownership had put them in. (Thanks, Dodgers! I appreciate it!) In April 2013, the Red Sox' chances at competing fora postseason berth were about as good as me putting together a 10-team parlay during an NFL Sunday. But the players they needed to rebound and to steal a line from Michael Kay, who apparently isn't happy with me right now for questioning his analysis of a bunting situation, "they need players to play to the backs of their baseball cards." Everyone did and they won the World Series.
In the new postseason format, you have to really, really, really, really, really suck to not be in contention for at least the second wild card. The 2013 Yankees had Vernon Wells and Lyle Overbay in the middle of the order for nearly the entire season and they weren't eliminated until Game 158 last year. Maybe the Yankees do have a lot of performance (CC Sabathia, Ivan Nova, Kelly Johnson) and health concerns (Derek Jeter, Mark Teixeira, Michael Pineda) to worry about, but there is definitely proof that the stars can align.
I hope someone drills someone this weekend or the benches clear because I'm not sure what we will talk about when they meet again in 12 days.
Hurley: The stars definitely can align, but when you're using the 2013 Red Sox, aka the most unlikely championship team in history, to boost your spirits about the 2014 Yankees, that's probably an indication that maybe even you realize that your expectations need to be adjusted.
The 2013 Red Sox were an anomaly, so you might want to look elsewhere to find inspiration that the Yankees can win a World Series this year. I do think recent years have shown that teams don't need to be great at all to win — they just need to get good pitching, good defense and timely hits from relatively unknown middle infielders to win the whole thing. The 2010 and 2012 Giants, the 2011 Cardinals and the 2013 Red Sox were far from "powerhouses," and the fact that Edgar Renteria (!!!!), David Freese and Pavlo Sandoval served as the Series MVPs in those years supports that.
And you're right to say that a team really has to suck to be out of contention for the second wild card spot, but:
A.) Aiming for the second wild card spot is really sad, and
B.) The AL East is still crowded.
For whatever reason, the Rays are always in the playoff mix, even though their players change every year. The Red Sox don't look great early this season but they are the defending champs and probably shouldn't be counted out just yet. So that means the Yankees really have to be better than the Orioles, which I'm not positive they are. (Also, the Blue Jays are a baseball team.)
I feel pretty comfortable saying the Yankees, with their 40-year-old shortstop and freakishly skinny "ace" and hairy-armed binder-wielding manager, are not going to win the World Series. But good luck to you in your insane-as-ever following of the team. I look forward to watching you melt down on Twitter all summer long.