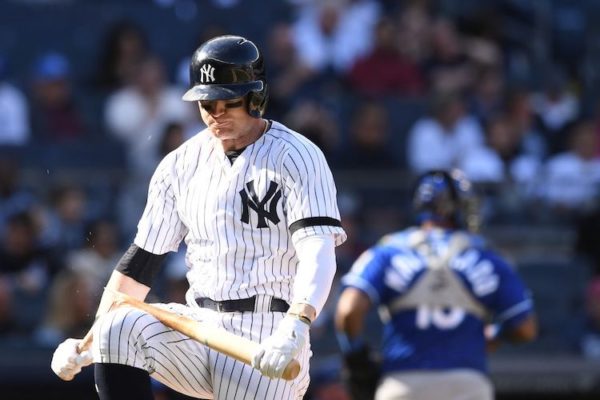 Since the day the Yankees traded Andrew Miller and received Clint Frazier in return, I have been fearful Frazier would get a full-time major league opportunity and realize his potential with a team other than the Yankees. Between the Yankees' full roster and lineup, owed salary to established and veteran players, potential trades for starting pitching and Frazier's own injuries, there has always seemed like too many obstacles in his way of becoming an everyday player for the Yankees.
This was before Frazier decided to pull his disastrous public relations stunt, dodging the media earlier this season following a forgettable Sunday Night Baseball game against the Red Sox. And this was before a roster number crunch made him the odd man out for the acquisition of Edwin Encarnacion. There might not be another team in baseball willing to send down a former first-round pick, who's now 24 years old and batting .283/.330/.513 with 11 home runs and 34 RBIs, but the Yankees are.
Frazier doesn't belong in Triple-A. He has nothing left to prove in a league in which he batted .305/.388/.562 in 54 games last year. He's proven his former draft worth and has displayed the "legendary bat speed" Brian Cashman has raved about since the moment the Yankees traded for him. Unfortunately, for Frazier, the Yankees don't make roster decisions based on performance.
Frazier's injuries as a Yankee coupled with roster depth limited his chances to play in an everyday role with the team. Outside of a minor ankle sprain earlier this season, which he valiantly wanted to play through, Frazier has been as close to an everyday player for the Yankees as he's ever been and he's performed. He's played both corner outfield positions (granted, not very well) and has hit everywhere from third to eighth in the lineup. Even in his last game before being sent down on Sunday, Frazier was the cleanup hitter. There were times when he was the best hitter in the lineup, surrounded by a long list of Replacement Yankees, and times when he single-handedly won games with his bat. He was finally (mostly) healthy and on his way to his talent ceiling in his fourth season with the organization.
The Yankees decided to not address their starting pitching issues in the offseason and again recently and now it's going to likely cost Frazier his Yankees tenure, barring a truly significant injury to Aaron Judge, Giancarlo Stanton or Aaron Hicks by July 31. Even then, Frazier remaining a Yankee might have to come at the cost of significant injuries to two of those three. Brett Gardner would likely go back to an undeserved everyday role after one injury with someone like the unworthy Mike Tauchman becoming the fourth outfielder.
The Yankees gave Gardner a one-year, $7.5 million deal the second free agency opened this past offseason, betting on a soon-to-be 36-year-old coming off the worst season of his career. His seniority and now contract are blocking Frazier from a roster spot in what should be his last season with the Yankees and in baseball, and the Yankees aren't putting the best possible 25-man roster together or thinking about their future because of Gardner's presence. A .234/.319/.392 hitter over his last 206 games and 869 plate appearances is sending Frazier to the minors. A late-game defensive replacement is keeping Frazier off this team. It's not the first time a career resume, history with the team or owed money has been the deciding factor on a roster spot on a team claiming to trying to win the World Series every season, and it certainly won't be the last.
The Yankees are about to having a starting outfield of Judge, Stanton and Hicks with Encarnacion as the primary designated hitter. There's no place for Frazier with that setup and no place for him with the team committed to Gardner no matter how long his cold streaks last and how many of them he has. Frazier had his chances with the Yankees, not many of them, and was either injured playing the game hard or demoted for a more established and much older name. Now it looks like he's out of chances with the Yankees' inability to address their starting pitching issues in either of the past two offseasons or as recently as two weeks ago.
There's a good chance Frazier won't wear the pinstripes again. At least not at this point in his career. Maybe the team will trade for him again in 10 years when they need a right-handed power bat in the lineup to take away the roster spot of their 2029 version of Frazier.
Every sign points to Frazier being moved within the next six weeks and my biggest fear coming true: Clint Frazier is going to get a full-time major league opportunity and realize his potential with a team other than the Yankees.
***
My book The Next Yankees Era: My Transition from the Core Four to the Baby Bombers is available!