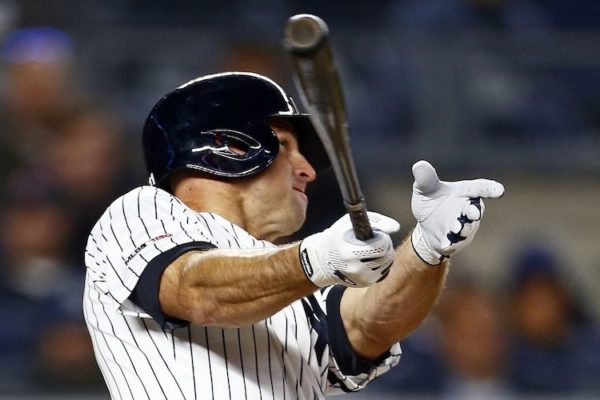 When Brett Gardner cleared the bases with a three-run triple in the first inning of the second game of Monday's doubleheader, I wasn't thinking about the Yankees' early 3-0 lead, that they were on their way to their 14th straight win over the Orioles or that they would have the best record in baseball at the end of the night. I was thinking about the 2020 season.
I didn't want Gardner back for 2019. I had seen enough from the then-35-year-old outfielder and his career-worst season to want the Yankees to go in a different direction. Entering the first true season of this group's championship window of opportunity, I wanted a younger and better left field, with the assumption Giancarlo Stanton would be primarily used as the designated hitter. I wanted the Yankees to sign Michael Brantley.
I'm not sure if the Yankees ever even gave a thought to signing someone other than Gardner because in the first minutes of free agency, they brought him back on a one-year, $7.5 million deal, believing his career-low .690 OPS wasn't indicative of who he was at what's now considered to be an advanced age in baseball. Gardner was said to be the team's "fourth outfielder", a position which might have gone to Clint Frazier if not for a lost season due to unfortunate injuries, and as a reserve player with extra rest, maybe he would be more productive than he was the season before.
Gardner went from being the fourth outfielder to being an everyday player before Opening Day as Aaron Hicks started the season on the injured list and Stanton joined Hicks before April 1. On April 20, Aaron Judge joined them both. In what was supposed a season in which Gardner would transition from an everyday player to a role player, he's played in 104 of the team's 120 games, playing in nearly 90 percent of the games despite his own recent trip to the injured list.
Through the first quarter of the season, the Yankees' decision to bring back Gardner was a disaster. He's one of the media's go-to postgame guys and said to be a strong and trusted clubhouse presence, but from strictly a baseball standpoint, he was looking every bit his age on the field. In mid-May, he was batting .197/.287/.381 and his production wasn't doing anything to dispel the idea he could no longer play every day. Through June, he had been able to prop his OPS up to .760 with a few home runs, though for someone who could always fall back on his ability to get on base, he wasn't doing that anymore either with just a .319 on-base percentage. Gardner had been horrible offensively for a 907-plate appearance sample size, still looking like the player in 2019 who lost his spot as the leadoff hitter before losing his job completely to Andrew McCutchen in 2018.
During the Fourth of July weekend series in Tampa, at the same time Mike Tauchman was becoming the best hitter in baseball, Gardner was beginning his own career resurgence. Gardner homered in each of the last three games against the Rays, going 7-for-15 with two walks in the four-game series to end the first half on a high note. By the end of July, he had raised his average (.243) and on-base (.325) to respectability and had an impressive .785 OPS. August has been much of the same, as he returned from his end-of-July injured-list stint by batting .375/.444/.725 in his first 12 games this month.
I realize Gardner's career has been defined by hot and cold streaks (whether or not Aaron Boone and the Yankees actually believe in hot and cold streaks), and it's why I nicknamed Gardner "The Streak" years ago. I'm not about to think he has become his old self or that he might now suddenly be the best version of himself at this point in his career, though he has shown he's still capable of putting together these ridiculous runs. (If only the cold streaks weren't so cold.) It's why I found myself thinking about 2020 as he motored into third on Monday night.
There's still a quarter of the season left for Gardner to not become an automatic out again and for him to give the Yankees a reason to bring him back, but with the Yankees' full outfield nearing a return and September call-ups a few weeks away, Gardner will get the rest the necessary rest he needs to combat his career history of decline in late-season production.
If the Yankees re-sign Gardner for 2020, he's going to play, and play a lot. He might once again be considered the "fourth outfielder" on the team, but he will get much more than fourth outfielder at-bats, the same way he did this year. As much as I wish the trio of Aaron Judge, Giancarlo Stanton and Aaron Hicks would give us a full season, chances are they won't because their careers and injury histories say they won't. You can write it in stone that Hicks will make at least one injured-list trip in 2020, as he's never played in more than 137 games in a season, and for someone who has had nearly every conceivable non-surgery baseball injury, I doubt his 30s (he will turn 30 in October) will be less marred by injuries than his 20s were. Even if the trio of Judge, Stanton and Hicks were completely healthy for a full season, the Yankees would still implement a four-man outfield rotation with the amount of extra and unnecessary rest they provide their players. The player they pick to fill the "fourth outfielder" role will be much more than a once- or twice-a-week player.
Should that player be Gardner (who will be 36 on Opening Day 2020 and will turn 37 during the 2020 season)? If the Yankees were willing to bring him back for 2019 following the kind of season he had in 2018, I find it hard to believe they wouldn't bring him back in 2020, coming off a much better season. Six weeks ago, I didn't think there was a chance Gardner would be an option for next season, with his roster spot going to Frazier, Tauchman or someone else, anyone else. But this recent resurgence has me easily seeing a path to Gardner getting another one-year deal.
We're a long way from this decision having to be made, but with each day of Gardner's resurgence, it's more and more likely he'll still be the longest-tenured Yankee in 2020.
***
My book The Next Yankees Era: My Transition from the Core Four to the Baby Bombers is available!