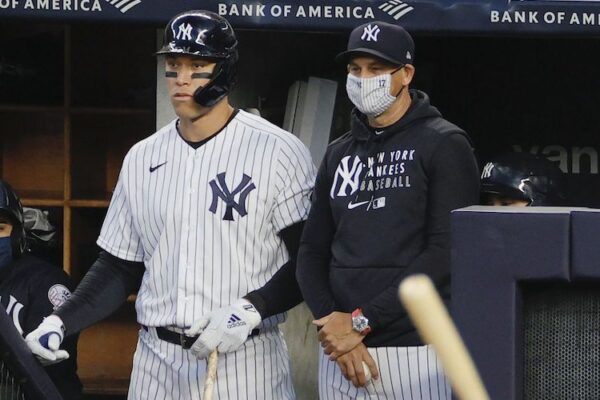 Four years ago, there was no doubt Aaron Judge would be a career Yankee. Three years ago? Same thing. Two years ago? Somewhat the same thing. One year ago? Eh, possibly. Now? I don't see how he could be.
There's no question Judge is an elite talent, a true difference maker in the Yankees' lineup and the most important player to the team's offense. Judge turned 29 on Monday and he celebrated his birthday with a Yankees loss to Matt Harvey and the Orioles as the team fell four games under .500 again. Judge treated himself to an eighth-inning, rally-ending out when he inexplicably decided to run to third base and get into better scoring position with two outs, representing the game-tying run.
Judge has spent a lot of his 20s injured. He will be a free agent after his 30-year-old season and will turn 31 in the first month of whatever contract he gets following 2022. It's hard to envision someone with his size and stature and injury history getting healthier as their career progresses. I don't see how Judge will be less injury-prone on the other side of 30.
This week pushed me over the edge on Judge. It was bad enough he was missing time six games into the season, but this week was the breaking point with him and his unavailabilty.
Judge was pulled in the ninth inning of Tuesday's game, and immediately, every Yankees fan assumed he was injured. When Judge was pulled from the fourth game of the season, it resulted in him missing the sixth and seventh games of the season. When he was pulled early from a game last season, it resulted in him missing more than half of the shortened season. Each time this happens, Aaron Boone says the same thing, and Tuesday was no different.
"Yeah, he's been pretty sore the last couple of days and I've been wanting to get him a day here," Boone said. "So just wanted to get him off his feet there at the end there, probably, get him one of these next two days a full day."
That scary Boone phrase of "just wanted to get him off his feet" has never boded well for Judge. It's never about giving him a rest. There's always something more. Maybe Boone is foolish is enough to think that answer would suffice the New York media and his postgame press conference would continue without a follow-up as to how and why Judge is sore.
"I think it's more just lower body stuff from kind of the travel," Boone said. "Eight days in a row, obviously, he's been on the bases a lot, running around a lot."
That was it. That was the moment I realized giving Judge a contract of anything more than three years after 2022 would be idiotic and regrettable. Even three years would likely be too long.
Traveling. TRAVELING. TRAVELINGGGGGG! Judge didn't get hit by a pitch or slide awkwardly into a base or fall funny on a dive or crash into a wall to experience soreness. He's sore from traveling in luxury as part of the most prestigious franchise of the major sports.
When Aaron Hicks missed nearly the first two months of the 2019 season after suffering a back injury during a 35-minute bus ride in spring training, I thought an injury that absurd was as safe as Cal Ripken's consecutive-game streak in terms of being untouchable. But then Judge went and one-upped his teammate and fellow outfielder. The only way Judge can be topped is if a Yankee is unable to play from being too sore from sitting on the bench in the dugout. 
Half of Judge's job is spent traveling since half of the Yankees' schedule is played away from Yankee Stadium. The Yankees fly on chartered planes, stay in five-star hotels and Judge makes more than enough money ($10.175 million in 2021) to enjoy the highest-quality meals. It's not like the Yankees are flying coach on Spirit Airlines, staying at Days Inns and eating fast food on the road.
What exactly is sore for Judge?
"It is non-specific right now," Boone said.
Those nagging non-specific, travel-related soreness injuries are the worst.
"I expect Judge to be in there tomorrow," Boone said after Thursday's loss. "I expect him to play regularly and to play all three games into the off day."
Holy shit! Three games in a row! I'm not even being sarcastic. Since 2017, Judge has played in 263 of the Yankees' last 409 regular-season games. That's 64 percent. He's averaged missing one game of every three-game series for the last four seasons. (In 2016, when he was called up for the first time, he ended up being shut down for the season with an oblique injury.) So playing in three games in a row is a big deal. That exceeds his average over the last four seasons.
In all seriousness, let's not get crazy here, Boone. Before Boone starts filling out the lineup card for Friday, I hope he looked at the travel itinerary for the team from Baltimore back to New York because Judge either suffered his soreness traveling from New York to Cleveland (67-minute flight) or from Cleveland to Baltimore (54-minute flight) and we don't want that to happen again. There are important questions Boone needed to have answered before declaring Judge a starter all weekend.
Are the Yankees flying home from Baltimore (37 minutes) or taking the train (2 hours and 40 minutes)?
Whether it's plane or train, will Judge's pillows be fluffed properly so he doesn't get a stiff neck?
Will a body pillow be available for him to avoid any further "lower-body stuff?"
Will his ride home from the airport or Stadium have the heat or air conditioning in the vehicle set to the exact temperature necessary to avoid further discomfort?
Here's to hoping the postgame spread in the clubhouse was to Judge's liking on Thursday afternoon and that his steak dinner was cooked to his liking and that he made it home from Baltimore in complete comfort.
Boone was asked what he has to say to the fans who question the health of Judge.
"I'd say we're at the end of April here," Boone said. "(Judge) has played a lot here already in the month of April."
Boone, Boone, Boone. To take a line from Michael Scott, "Why are you the way that you are?"
You know what I'd say? I'd say you're at the end of April and you have an 11-14 record. I'd say you're tied for the last in the AL East, already five games back in the division, 1-5 against the Rays, 2-4 against the Blue Jays and just lost two games to the Orioles.
Judge hasn't played "a lot" in April. This has been his schedule:
April 1: Played complete game
April 2: Off
April 3: Played complete game
April 4: Played complete game
April 5: Played eight innings
April 6: Played complete game
April 7: Off
April 8: Off
April 9: Off
April 10: Played complete game
April 11: Played complete game
April 12: Played complete game
April 13: Played complete game
April 14: Played complete game
April 15: Off
April 16: Played complete game
April 17: Played complete game
April 18: Played complete game
April 19: Off
April 20: Played complete game
April 21: Played complete game
April 22: Played complete game
April 23: Played complete game
April 24: Played complete game
April 25: Played complete game
April 26: Played complete game
April 27: Pulled in ninth inning
April 28: Off
April 29: Pinch hit in eighth inning
"He's as tough as they come," Boone said, "And does always want to play and be there.
Boone said that was a straight face. He didn't even crack the slightest smile or blink. For a second I believed him. Then I remembered this:
In 29 days, Judge has played 19 complete games, been pulled early in two, pinch hit in one and had seven days off. In four weeks, Judge has had a week off. He has spent a quarter of the baseball season not playing baseball. This after having the previous six months off. And prior to that, he played 35 baseball games (2020 regular season and postseason) in a calendar year. Since the last out of the 2019 ALCS, Judge has played in 57 games in 18 months.
"I think he also understands more than ever that this about posting over the long haul," Boone said on Wednesday. "This is about being able to go to the post whether it's 140, 145 150 times. That's what we're eyeing."
What Boone wanted to say was, "We want him to be healthy for October," but not even Boone is dumb enough to say that when the team is three games under .500 and an overall disaster.
Judge has played 155 games once. His next highest is 112. So don't act like 140 or 145 or 150 games is the norm or even a possibility when it comes to Judge. It's not. He's already missed four games. He would have to play in 129 of the remaining 137 games to play in 150 games this season. There's a better chance Boone doesn't say the word "obviously" in his next press conference than there is of Judge pulling that off.
A day later, Boone was asked if it's fair to say Judge won't play in the 140-150-game range, considering he's already missed four games and simple math coupled with Judge's injury history and Boone's obsession with days off guarantees it.
"No, I think it's silly to try to guess on it now," Boone said, clearly upset with the question. "The proof will be in the pudding. When we get down to September, we can see where we're at and we can revisit that. I expect him to be a regular for us throughout the year."
Boone said all of that with a shit-eating grin on his face. If Boone thinks the pudding in September is going to show Judge on pace for 140-150 games played, there's probably some hallucinogens baked into it.
"You can go ahead and speculate on what the number will be," Boone said. "I think it's a little silly to do that at the end of April."
There's no "speculating." It's simple math.
"Judgey always wants to play," Boone said with a sarcastic laugh. "But I think just me kind of talking through with him and just saying I want to do one more day, my message to him was 'I want you to be in there a ton throughout the season.'"
Judge doesn't always want to play. If he did, Boone wouldn't know about his soreness from traveling. If he did, he wouldn't tell Boone about his soreness from traveling.
The Yankees are so concerned with Judge being available in September and October that they're not worried about him playing and the team winning in April. At the team's current rate of urgency, Judge will be healthy to play meaningless games in September and to watch the postseason in October. Then he can have another six months off his feet.
---
Subscribe to the Keefe To The City Podcast. New episode after every game during the season.
---
My book The Next Yankees Era: My Transition from the Core Four to the Baby Bombers is now available as an ebook!