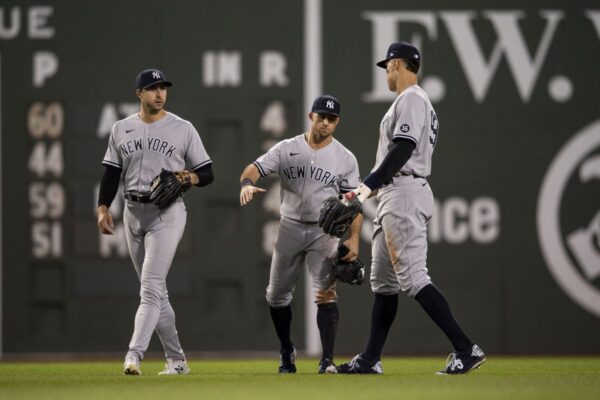 When the Yankees and Red Sox met in the 2004 ALCS I was a just-turned 18-year-old college student living in Beacon Hill in Boston. Six weeks after move-in day, it was parents weekend during Game 3 of the ALCS when the Yankees put together a 22-hit performance, including 13 for extra bases in their 19-8 win to take a 3-0 lead in the series. The next morning I laughed to my dad about how the Yankees were going to sweep the Red Sox. His response? "Why would you say that?"
That night the Yankees lost to the Red Sox after Kevin Millar walked, Dave Roberts stole, Bill Mueller singled and David Ortiz went deep in the 12th. But it didn't faze me. Sure, my dad's "Why would you say that?" kept coming to my mind, but the Red Sox weren't going to come back. The Yankees had to win one of the next three games of the series with two of them being at Yankee Stadium. I didn't even think the series would get back to the Stadium, so I decided to do the most sensible thing I could think of: use essentially all of my first-semester spending money on tickets to Game 5.
My dad thought I was an idiot for blowing a summer's worth of work for the possibility of the Yankees clinching the pennant in Boston. I wanted to see the Yankees spraying champagne on the Fenway Park field even if the friendly confines of Fenway weren't so friendly back then and I might no longer be here if the Yankees had actually won the game. It turns out parents actually do know best. I blew a substantial amount of money to watch what was then the longest postseason game in baseball history only to have my heart ripped out and stomped out Michael Strahan-style right near the Pesky Pole where I watched Ortiz's walk-off single fall into center field. Sometimes when I close my eyes, I still see Bernie Williams charging in on the ball, hoping Johnny Damon would stumble and fall while rounding third to head home. The money that could have been better used on Natural Light, 5-5-5 Domino's orders or Captain Morgan's disappeared thanks to Joe Torre's usage of Tom Gordon and the short wall in right field, which prevented Ruben Sierra from scoring the go-ahead run in the top of the ninth inning.
---
Fourteen years later, I found myself back in Fenway Park for the 2018 ALDS. I had seen many Yankees-Red Sox games between at Fenway between Game 5 of the 2004 ALCS and Game 1 of the 2018 ALDS, and nearly all of them ended in an unspeakable loss for the Yankees. From Gary Sheffield fighting fans to Chase Wright allowing back-to-back-to-back-to-back home runs to Kevin Youkilis' walk-off home run off Damaso Marte, which might still be in orbit, to Jacoby Ellsbury stealing home on Andy Pettitte to countless other awful defeats. Every time I walk in there I glance over to the right-field pole and get a little queasy envisioning my 18-year-old self watching the worst collapse in postseason history take place at my expense.
The Yankees lost Game 1 of the 2018 ALDS, but went on to win Game 2 thanks to Gary Sanchez. After Game 2, I walked back to the hotel with my then-fiancée and now-wife and our two friends looking for a place to have celebratory drinks with an Amtrak ride back home in just a few hours awaiting us. I didn't care about barely getting any sleep or not sleeping at all. The high of knowing the Yankees had taken home-field advantage from the Red Sox in the series was enough to keep me going and keep me awake.
Two nights later that high had become an unimaginable low. Luis Severino didn't know what time Game 3 started, warmed up late and got rocked. Aaron Boone sat back and watched Severino get barreled for three innings and let him hang around long enough to put the Yankees in a 3-0 hole and load the bases with no one out in the third. Boone relieved Severino with Lance Lynn, who wasn't the best strikeout options, not even close, wasn't a reliever and was nowhere near the pitcher he is now. Lynn allowed a bases-clearing double and the Yankees were on their way to the franchise's worst home postseason loss in team history.
The following night, I was back at Yankee Stadium, hoping to be going back to Boston for a Game 5. But when Boone let CC Sabathia go through the Red Sox' entire order a second time just so he could face the No. 9 hitter in Jackie Bradley, there would be no going back to Boston. In the single oddest managerial move of all time, Boone put the game just out of reach for his team in the eventual one-run loss and the Yankees' season ended, while the Red Sox went on to beat the Astros and Dodgers to win the World Series.
---
The Red Sox haven't played a postseason game since winning the 2018 World Series. The Yankees have played 16 with nothing to show for it other than two more years added on to their latest championship drought. On Tuesday, they will meet again with the winner going to Tampa and the loser going home.
The Yankees have everything to lose as a team in a supposed championship window, who was the preseason favorite to win the American League and now playing in the wild-card game yet again. The Red Sox? They were supposed to only beat out the Orioles in the AL East, weren't considered close to competing for a postseason spot, and here they are, owning the same record as the preseason-favorite Yankees and hosting the wild-card game after beating the Yankees in 10 of their 19 games.
I'm not ready for Yankees baseball to end. Even in a season that nearly put me in the hospital several times, made me question being a sports fan all together and whether I should continue to watch baseball, I don't want it to end. But I have a bad feeling about Tuesday night. A very bad feeling. The kind of feeling only the Red Sox could make me feel, and the kind of feeling their fans used to feel before the 2004 ALCS.
---
Tuesday night will be about the offense. Outside of Kevin Brown and Javier Vazquez's dual disaster in Game 7 of the 2004 ALCS, going back to the team's last championship in 2009, when the Yankees' season ends, it's because of the offense. One run in Game 5 of the 2020 ALDS. Four runs in Game 6 of the 2019 ALCS. Three runs in Game 4 of the 2018 ALDS. Shut out in Game 7 of the 2017 ALCS. Shut out in the 2015 wild-card game. One run in Game 4 of the 2012 ALCS. Two runs in Game 5 of the 2011 ALDS. One run in Game 6 of the 2010 ALCS. When the season ends, it's because of a lack of offense, never because of their pitching.
I think Gerrit Cole will be good on Tuesday. Not great, but good. He's never been great against these Red Sox and has never been good at Fenway Park. I don't think he will go out and lay the kind of eggs he was laying throughout September, but I don't think we're going to see complete-game shutout Cole from the Saturday before the All-Star break. Partially because of his lingering hamstring issue and partially because this team has seen him too much.
The roster, game and situation is nearly fool-proof from Boone. It would take his worst performance ever to not be able to piece together 27 outs. If your name isn't Gerrit Cole, Luis Severino, Jonathan Loaisiga, Clay Holmes or Aroldis Chapman, you shouldn't see the mound on Tuesday. Maybe Wandy Peralta for Rafael Devers. Everyone else should be stapled to the dugout or bullpen bench.
That brings us to Nathan Eovaldi. The starting pitcher on my All-Animosity Team. Eovaldi was a horrible Yankee as a guy who can hit triple digits, but can't strike anyone out. The Dodgers gave up on him and then the Marlins gave up on him as a 24-year-old with incredible velocity because he didn't have an out pitch and didn't know where the ball was going. So the Yankees gave up Martin Prado and David Phelps because of the glamour of Eovaldi's fastball, thinking they would be the ones who could fix him. They weren't.
Eovaldi pitched to a 14-3 record in 2015, so every idiot who relies on wins and losses to determine a pitcher's success thought he had a great season. It didn't matter that he received 5.75 runs of support per game or that he routinely struggled to get through five innings and qualify for a win because he needs 20-plus pitches to get through each inning. In 2016, it was more of the same. Eovaldi pitched to a 4.76 ERA over 21 starts and 24 games before being shut down for another Tommy John surgery, ending his time with the Yankees as they let him leave at the end of the season.
When Eovaldi returned to baseball in 2018 and pitched well with the Rays, many Yankees fans started to think about a reunion, having not learned their lesson from the last time Eovaldi was a Yankee. When he was traded to the Red Sox, I laughed with excitement, envisioning him destroying the Red Sox' chances at winning the division. Instead, he shut out the Yankees in the all-important August series (even if he faced a JV lineup) and then shut them out against in September. I never thought he would be able to beat the Yankees in October in the Bronx, but he did, after getting more run support than any other pitcher against the Yankees in their history.
Eovaldi beat the Yankees and the Astros in the 2018 playoffs, mixed in a few relief appearances and then became a hero for his bullpen work in Game 3 of the World Series, even though he took the loss after giving up a walk-off home run. (Only in Boston could a losing pitcher become a "hero.") Now Eovaldi is a World Series champion, continues to beat the Yankees' poorly-designed, all-right-handed lineup and I'll never get over it. If he pitches a gem on Tuesday, especially after the Yankees chased him in just 2 2/3 innings just 11 days ago, I will truly never get over it. If the Yankees lose on Tuesday because of an inability to hit Eovaldi of all pitchers, I won't be able to get over it.
The Yankees weren't supposed to be here. Here being in the wild-card game. And now it being in Boston isn't a scenario I envisioned as recently as five days ago. But they are here and the only way to avoid being embarrassed by their rival who has taken the clear upper hand in the rivalry ever since I laughed to my dad on October 17 now 17 years ago is to win. Win one game.
---
Subscribe to the Keefe To The City Podcast. New episode after every game during the season.
---
My book The Next Yankees Era: My Transition from the Core Four to the Baby Bombers is now available as an ebook!