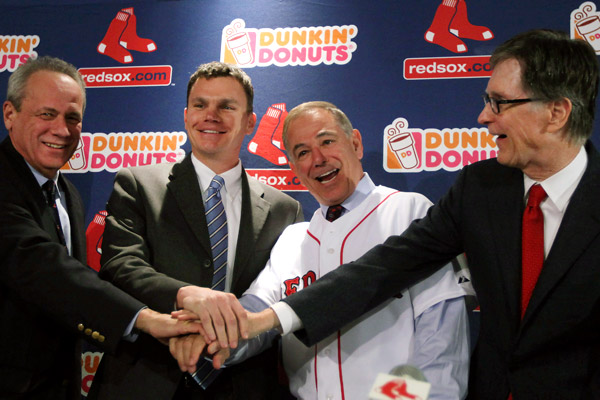 I don't remember the exact state I was in the morning of Game 7 of the 2011 Stanley Cup Final between the Bruins and Canucks, but I'll try to describe it as what it's like to be a puppy that just heard thunder for the first time after drinking four Double Americanos. Needless to say, I was a nervous wreck. After playing 106 games that season, the Bruins' chance at their first Cup in 39 years had come down to 60 minutes in an arena where they had sucked all series long. To borrow a phrase, this was not real life.
This led to a pretty telling Gchat conversation between Neil Keefe and I where the subject centered on what I'd trade in the sports world for a Bruins championship that night. Here's the most important passage:
Neil: Red Sox don't make the playoffs for the next 12 years, and the Yankees win five in a row in that span…would you trade it?

Me: Yep.
Neil: Damn.


Me: Didn't even need to think about it.


Neil: That's serious.
This, of course, came on June 15, 2011 when the Red Sox were 40-27 after winning nine of their last 10 games. Their .597 win percentage made them the best team in the American League.
You probably know what happens next. The Bruins go on to win Game 7, shutting out the Canucks on the road to win the Stanley Cup. The Red Sox win that night too, but go 50-45 the rest of the season, which includes an epic September collapse that causes them to miss the playoffs. 

More than a year after our conversation, Terry Francona, Theo Epstein, Kevin Youkilis, Josh Beckett, Carl Crawford and Adrian Gonzalez are all former Red Sox, while Bobby Valentine's club sits 15 games out of first with a 62-74 record. Oh, and they were just outscored 330-5 (33-5 actually – it just seemed like 330) in a three-game sweep in Oakland over the weekend where almost every former Red Sox player did some damage against their former team.
Whoops.
This is all a very strange, maybe even funny, coincidence – at least, I keep telling myself that. I've fashioned myself as a 'hockey-above-all-else' fan first and foremost, with all sports falling into place thereafter. From the handful of people I've told about mine and Neil's conversation, Bruins and Red Sox fans alike, I've gotten mixed responses. The night after the Bruins' win, I remember two people telling me, "Nah, never happen with this year's Sox." Those same two people now send me the occasional, "I hate you" or "Hope you're enjoying that Cup, douche" tweets and texts whenever something goes side-splittingly wrong for the Red Sox. I even had a co-worker tell me, in all seriousness, that I needed to "strongly reconsider my alignments" after the Red Sox collapsed last September against the Orioles. I avoided eye contact with them for the next few weeks.
You can only imagine what I was thinking about when the Red Sox dropped this bombshell of a trade on its fans. Curse reversed.
Personally, I love the deal. I love it because this team was unlike any other club from years past. The thing that the Red Sox needed the most was a reset, a clean slate to wipe away all of the BS that had been surrounding them for so long. This move was a step in the right direction, even if it means it's going to feel like pre-2004 for the next few years.
Regardless of how you feel about the Red Sox, it's hard to deny that the trade of Gonzalez, Crawford, Beckett and Nick Punto (who will no doubt become the answer to the trivia question, "Who was the fourth Red Sox player traded to the Dodgers in the 2012 Summer Blockbuster move?" in 10 years) to the Los Angeles Dodgers was a blockbuster. It was the most necessary move to get the Red Sox back on track for the upcoming years, purging over $275 million in sour contracts and stale players along the way. It also means that opposing teams will get to see a potential heart-of-the-order of Jacoby Ellsbury, Ryan Lavarnway and James Loney (a combined batting average of .241 between the three of them) for the remainder of the season. If this doesn't scream "Hey! We give! We give! We'll just start rebuilding now, OK?!" I don't know what will.
And you know what? That's fine.
The 2012 season was a lost cause for the Red Sox early on and everybody knew it. Plagued by injuries, leaks, a lack of effort and insufferable players, coaches, managers, owners, media members and fans, it became too easy to point fingers. In fact, all of the hype that was conjured up about this team after the 2010 offseason simplified it. I was drinking the same Kool-Aid as every other Red Sox fan, believing that yes, the 2011 club would be one of the best ever. Clearly, that wasn't the case. The Dodgers trade serves as what should be the midway point to massive remake of the Red Sox. It also should have woken everyone up.
The expectations are being lowered for the Red Sox, as they should be. The once laughed-at "bridge year" idea that Epstein floated by Boston in 2009 seems reasonable for the immediate future pending any ridiculous moves this offseason. The Red Sox need to take a step backwards if they're going to be a successful club in the future. In Boston, it needs to feel like 2003 again if there's ever going to be another 2004 and that begins with churning out players who are easy to root for.
Want to know why everyone liked the 2004 Red Sox team so much? Because they worked their asses off. It was about baseball in the end – not contracts, not leaking things to the media, not about never giving 100-percent effort. Sure, there were big-name players on the roster, but it was always about putting the team first and the individual second. It's part of the reason why guys like Trot Nixon, Bill Mueller and Kevin Millar were so crucial to the 2004 team's success. It was never really about themselves. For the past few years, that same ideology became lost.
It was about Adrian Gonzalez citing "God's plan" as an excuse for the Red Sox collapse last season and later blaming the Green Monster, an inanimate object, for his lack of power at Fenway Park.
It was about Carl Crawford deflecting post-game questions from the media regarding the team's struggles to Jason Varitek ("Go ask the Captain") and only being able to play on certain days due to his injuries.
It was about Josh Beckett and his 18 days off a year, his faded interest and baseball and (lest we forget) chicken and beer.
It was never about the Boston Red Sox as a whole, a unit, a team, as it was about themselves for these players. They had to go, every single one of them, if it meant putting this organization back on the right path.
It's a lot easier to root for guys like Mauro Gomez, Pedro Ciriaco and Ryan Lavarnway right now because they're competing for a spot next season. They haven't grown complacent with the team, gotten comfortable and accepted their given roles with mediocre play and lousy attitudes. They want it.
The roster is filled with unknowns to the casual baseball fan, but maybe that's for the best. Let's weed out the pink hats and the jaded "first time/long time" fans whose day revolves around them bitching about the Red Sox on sports talk radio. While we're at it, let's rip apart the staged 'sell-out' streak and put a stop to singing "Sweet Caroline" when the Sox are getting blown out. Let's get back to playing baseball.
There's still a lot of work left to be done to salvage the Red Sox for the upcoming years. Bobby Valentine has become the Michael Scott of the Red Sox organization circa Season 1 of The Office (awkward, intolerable and sometimes the only reason to watch), while the ownership has matured to be far too problematic with their priorities lined up outside of Fenway Park. That's just the beginning, of course, but it's important to remember that it needed to get worse for the Red Sox before it got better.
According to my calculations, just 10 more years of bad luck for the team. At least there's a new curse to reverse. Now about those World Series titles for the Yankees I agreed to…