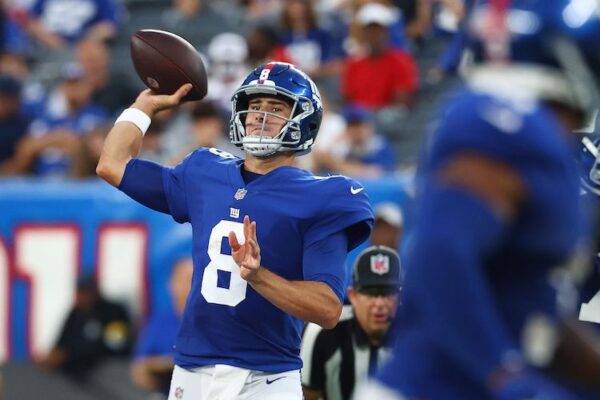 I hate that summer is over. I hate it. But like every year at this time, I'm happy football is back.
The first week of football is special and the anxiousness at 1 p.m. on the first Sunday of the season is indescribable. Keeping up with the games, parlays, teasers and fantasy teams all at once, while drinking and eating thousands of bad calories for nearly 11 straight hours now 18 times a year is magical.
In order to avoid a down week from a financial standpoint since it will be a down week from a dietary standpoint, I have fine-tuned some personal gambling rules to prevent any emotional or illogical decisions this season.
1. Don't Be Tricked by Week 1
Week 1 is my favorite week to pick and wager on because your decision making is based on your own knowledge and feel for how the season will play out. Week 2, on the other hand, is a reaction (and a lot of times an overreaction) to what happened in Week 1. (If I could, I would sit out Week 2. I guess I technically could sit out Week 2, but we all know that's not going to happen.)
I spend the entire offseason coming up with an opinion on each team, and then Week 1 happens, and some of those opinions, and at times a lot of those opinions, are destroyed or proven wrong. Except they aren't.
Don't let the results of Week 1 influence your original opinions on teams for Week 2. The Week 2 lines are the most reactive lines of the season because there is only one game of information to go off of.
(I need to set a calendar reminder to read this paragraph when I write the Week 2 picks blog.)
2. Be Careful with Thursday Night Football
It's not so much about Thursday Night Football in September and October as it is in November and December when baseball is over and the time between Monday Night Football and Thursday Night Football feels like an eternity.
The Thursday Night Football game generally sucks. Generally might be too generous. It sucks nearly every single week. The Opening Night Thursday game doesn't count and neither do the Thanksgiving games since those are unlike the other Thursday games. When it comes to the Thursday game, just because there hasn't been a game on in 72 hours, it doesn't mean it needs to be wagered on.
3. Don't Bet on the Giants
I have had some memorable runs with the Giants, especially their money lines over the years, but we are long past the point of where I have lost money overall on the Giants. Long past the point. If the point is Mischa Barton on The OC in 2003 then I'm Mischa Barton on The Hills.
I'm done thinking the Giants are going to be good or are going to eventually be good. I'm over it. I need to accept the Giants aren't going to be good and need to realize no one really knows the next time they will be good. They have reached the playoffs once in nine years, and as a Giants fan, I need to expect the worst each week and not let inexplicable turnovers, undisciplined penalties and nonsensical in-game coaching decisions affect my life. I need to treat the Giants the way they have treated me in all but two years over the last 14 years: like I don't care.
On top of this all, I need to somehow talk myself into thinking John Mara and David Gettleman have any idea what they're doing and won't further separate the Giants from contention. I need to talk myself into believing in Daniel Jones, the rest of Gettleman's draft picks and free-agent signings and the vision he has about building a team around a running back in a league which has drastically changed every rule to promote and help the passing game. I need to believe the organization finally got the head coach right in Joe Judge in their third try since unnecessarily moving on from Tom Coughlin.
I know the minutes before kickoff when I'm internally weighing the decision of whether to not wager on the Giants will arise this Sunday and all of the other Sundays (and Mondays and Thursday) when the Giants play, but I need to be strong.
(As a reminder, can someone please send me this write-up 15 minutes up before every Giants game?)
Three simple rules, which could go a long way in making this season more enjoyable and more profitable and get this season started off on the right foot.
(Home team in caps)
TAMPA BAY -7.5 over Dallas
I hate that the Cowboys were on Hard Knocks this season. I hate having players who play for a team I despise humanized. I don't want to like Dak Prescott or Ezekiel Elliott or Demarcus Lawrence. But any goodwill any of the Cowboys built on HBO will be erased the second the season begins. If the Cowboys weren't "America's Team" and weren't heavily backed by the public each week, this line would be even higher, and should be even higher. I particularly like having to cover more than a touchdown in a game that doesn't involve one of the league's worst teams, but the Bucs at home, in the season opener, on national TV, raising a championship banner is a good time to do so.
BUFFALO -6.5 over Pittsburgh
Poor Bills and their fans. Finally the best team in the AFC East and finally an AFC powerhouse and it has to come at a time when a player who could go down as the best in the league's history in Patrick Mahomes has emerged. Mahomes and Josh Allen are both the same age, which means there won't be a time or window for the Allen Bills in which they won't play runner-up to the Chiefs. It doesn't mean the Bills aren't great (they are), and it doesn't mean they won stack wins in the regular season and the postseason during the Allen era. It just means the franchise's championship aspirations will always be in the need of a major upset.
CAROLINA -4.5 over New York Jets
The only people who won't be rooting for the Panthers in this one will be Jets fans with Sam Darnold getting to play his first game in a new uniform against his former team. Jets fans have once again been sold on a new head coach and new quarterback and a new era of Jets football! A tale as old as time. It's hard not to think this story won't have the same ending it always does.
JACKSONVILLE -3 over Houston
My wife was in the middle of her fantasy draft the other night when said to me, "No one is taking Brandin Cooks," and rightfully so as Tyrod Taylor is the starting quarterback for the Texans. Trevor Lawrence is the starting quarterback of the Jaguars. All he has ever known is winning as has new head coach Urban Meyer. Even if the new faces of the Jaguars are making their NFL debuts, this line seems incredibly low.
TITANS -3 over Arizona
The Cardinals have never traveled well. Not only when they play an equal or superior opponent either. The Titans are really good. This line feels about two points too low.
ATLANTA -3.5 over Philadelphia
The NFC East is undoubtedly going to suck again. It's very possible the division is won with seven wins and that means every loss the Giants' opponents can mount will help them reach the postseason for the second time in the last decade.
WASHINGTON +1 over Los Angeles Chargers
It's too bad the weather on the East Coast is going to resemble mid-July rather than say mid-November on Sunday because if the Chargers were forced to travel across the country and place in even a little bit of chill, they would have no chance in Washington. Unfortunately, for Washington the about-90-degree weather is going to play right into the hands of the Chargers. I still like the Washington defense will be too tough for a West Coast team even in this humidity.
San Francisco -7.5 over DETROIT
Good luck to the Lions and their fans with Jared Goff as quarterback. Seriously, good luck.
Seattle -2.5 over INDIANAPOLIS
No team has been a bigger disappointment in the league since Pete Carroll's decision to throw the ball on the goal line of the Super Bowl. It wouldn't surprise me to see Seattle lay an egg in this one since that's what the Seahawks have become good at, I just can't get myself to back Carson Wentz.
Minnesota -4 over CINCINNATI
Kirk Cousins is a loser who has single-handedly cost me a lot of picks and a lot of money since 2018. The smart thing would be to start picking against Cousins and the Vikings, but I feel like the second I do, they will start to win a way I have expected them to for the last three seasons.
NEW ENGLAND -3 over Miami
I really want to believe in the demise of the Patriots as a franchise and Bill Belichick as a head coach. I really do. But I can't see the Patriots being that bad again and their performance in 2020 was that bad. I'm jealous of them having Mack Jones as their quarterback and I'm upset they chose to make the right decision to not only not make CN their starting quarterback, but to release him. I won't be surprised if the
KANSAS CITY -6 over Cleveland
It's going to be hard for me to ever pick against the Chiefs at home as long as Patrick Mahomes is playing. Factor in them not even giving seven at Arrowhead, and this might be my favorite pick of the week.
NEW YORK GIANTS +2.5 over Denver
The Giants haven't won the first game of the season in five years. If that doesn't change at home against the Broncos this season, it will unfortunately lead to another short season, which could be over by October once again.
NEW ORLEANS -3 over Green Bay
I saw Aaron Rodgers' man bun for the first time and I immediately changed my Green Bay -3 pick to New Orleans +3. The Superdome Saints might be a thing of the past, but if there's something that could bring them back under Jameis Winston, it's Rodgers with a man bun.
LOS ANGELES RAMS -7 over Chicago
I don't think I can ever like the Rams after their performance in the Super Bowl LIII against the Patriots, or rather Jared Goff's performance in that Super Bowl. They didn't belong there after the missed pass interference call in the NFC Championship Game, and once there, they were an embarrassment led by Goff. In trying to undo the damage done by Goff, the Rams now have Matthews Stafford and I couldn't be rooting harder for Stafford now that he's out of Detroit. The Bears' decision to start the season with Andy Dalton rather than Justin Fields is a regrettable one and will be looked back on as a waste of time.
Baltimore -4.5 over LAS VEGAS
I think I'm underrating the Raiders this season. Actually, I know I am. I have just seen too much from them during this second Jon Gruden era to change my opinion of them. Maybe their Week 1 performance will change my perspective for Week 2, but for now, I think I know who these Raiders are.